Pre-historic Rock Art Sites
Porc Epic cave is situated some 2 kilometers south of Dire Dawa at the foot of the escarpment rising from the southern Afar plain and straddling the mouth of the river Datchatu. It is located nears the top of the hill called Garad Erer rises very steeply from the wadi floor on the eastern side. Although the cave is not easily accessible, it commands a view of a great expanse of lower lying, open terrain to the north and of the wadi bed leading southwards into the escarpment (Clark and Willamson 1984),
Laga-oda ancient cave is located some 38 kilo meters away from Dire Dawa in the Guninfeta Peasants Association to the southwest. Three caves know locally by the names Gada-Kataba, Goda-Okotae, and Gada-Bttu are found close to this cave. Gada-kataba that literally means a cave with written records is not a cave but a rock shelter having two layers.
The number of rock paintings in lega oda is about 600 (Cervicek 1971). Apart from the paintings, there are also written records on the wall.
Drawing upon the findings of the Middle and Later Stone Age, the occupation of Porc Epic and Laga-Oda had been dated back to 7700bp and 15500bp respectively, while the paintings at both sites could be dated to around 5000bp (Clark and etal 1984, Brandt 1986, Degefa 1996). This undoubtedly indicates that the Dire Dawa environ has been inhabited, even if intermittently, since the Middle Stone Age.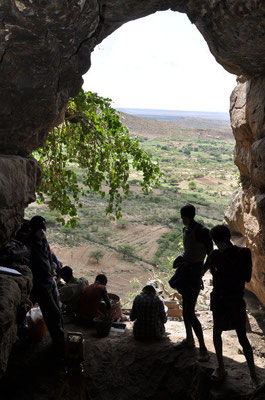 This cave is located in Awale Kebele Peasants Association, 28 kilo meters from Dire Dawa. Like the other caves found around Dire Dawa, this cave possess paintings with different colors and style depicting different object and writings.
Goda ajawa cave is specifically located on the top of a hill, a hill on which the nearby residents farm and cultivate many types of vegetables. On the way to the cave, it is quite possible to stop by and have a good view of the locals and the whole surrounding.
This is a surface cave located at an area called Addis Ketema. The nature of the cave is not yet well known. Some say that the cave leads into a tunnel-like underground passage that travels too far; this needs to be substantiated by studies in the future. However, there is a strong beliefs by the local people that the cave is decorated with colorful paintings.
If anything, the only remarkable aspect of this cave, its sheer size and the presence of a hot spot on one side of the caves wall and a cold one on the other.